---
Democratic presidential candidate Robert F. Kennedy Jr. said that he believes he has a path to defeating President Joe Biden in a 2024 primary in response to claims he's a long-shot candidate.
(Article by Jack Phillips republished from TheEpochTimes.com)
In a recent interview, Kennedy said, "Yes, I can win," when asked about his chances of ousting Biden in the primary. "The public polls are showing me at 20 percent over for the Democrats," he added, "and our private polling is showing that I have very strong support among independents and even Republicans."
"We need to be able to show people that democracy works and the United States isn't just like the Soviet Union, where the party picks candidates and the public really doesn't have a say," Kennedy told Fox News in an article published Sunday. "And we need to be the party of the New Deal, not the Rigged Deal, and I think the optics of that are very bad right now, too."
Kennedy's remark appears to be a shot at the Democratic National Committee (DNC) amid claims the party would not be hosting any 2024 primary debates. Last month, some Democrats, including progressives like former Bernie Sanders campaign official Nina Turner, voiced concerns that the DNC is overly committed to Biden's reelection and are protecting him by not planning any debates.
The DNC has not offered any public comments about whether there will be debates. The Republican National Committee has planned about a dozen presidential primary debates, although former President Donald Trump has signaled he won't participate.
"We should be trying to convince the public that we are the Democratic Party and that we do believe in democracy. And that the public actually gets to choose candidates, get to meet them, see them debate, touch them and participate in their own governance," said Kennedy.
Kennedy, who is perhaps best known for his critical statements about childhood vaccines, reiterated in the Fox interview that he joined the 2024 race because he believes the "Democratic Party right now is on the wrong track" and has "become the party of war, of censorship, [and] of fear."
"In 1970, the middle class earned 62 percent of salaries. Today, it's 42 percent. And the super-rich has gone from 29 percent to 50 percent. So, right there you can see why so many Americans feel that they're living on the … even the upper-middle class feel that they're living on the edge. And that debt has become just a fact of life for most Americans," he continued.
"A party that has brought the warmongering neocons into our foreign policy and turned our domestic policy over to Wall Street and large corporations," Kennedy also added. "And we're living in a time when many Americans, 57 percent of Americans, can't put their hands on $1,000 if their family has an emergency, where a quarter of Americans are hungry or malnourished, undernourished, and where the middle class is now collapsing in our country."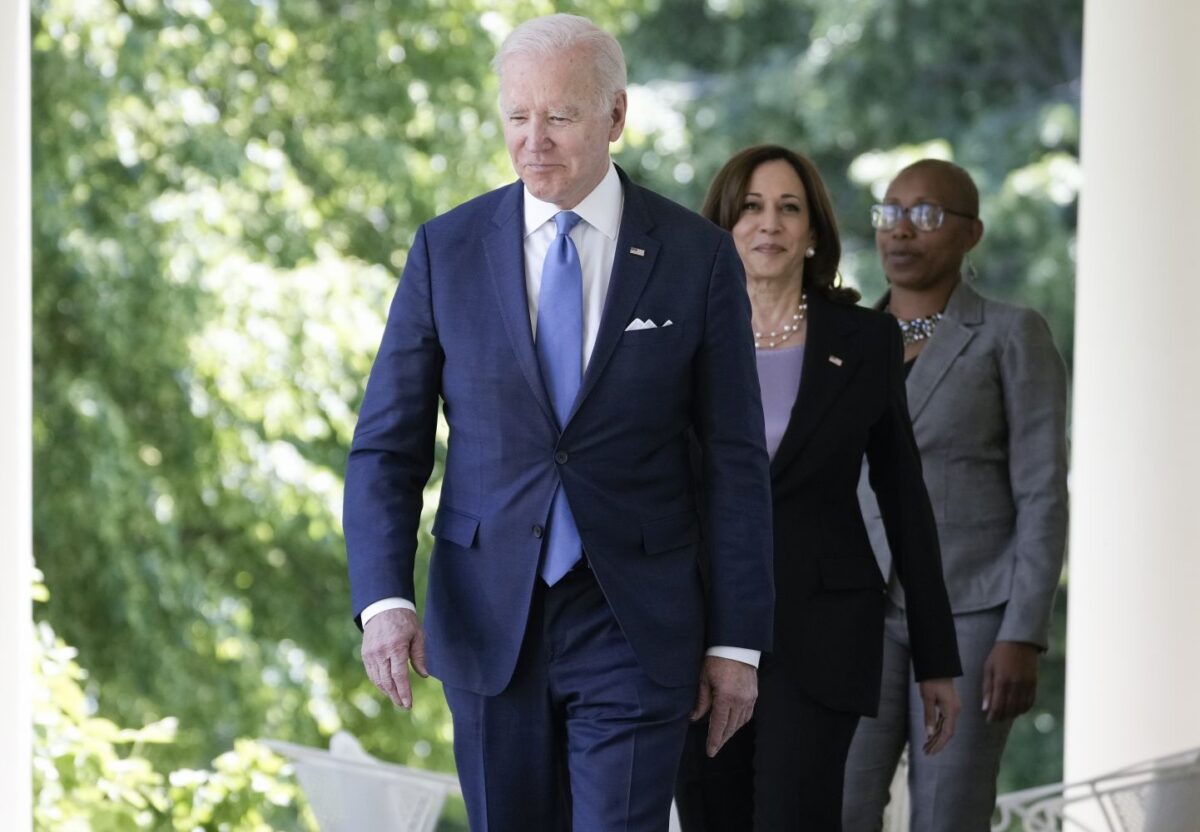 President Joe Biden and Vice President Kamala Harris walk to the Rose Garden of the White House in Washington on May 9, 2022. (Angerer/Getty Images)
A survey released by Engagious/Sago found that a number of Georgia swing voters who supported Biden during the 2020 election aren't pleased with his administration and want a third-party alternative. They also said that the president should debate Kennedy, the son of former Sen. Robert F. Kennedy and nephew of former President John F. Kennedy, to prove he's fit for office.
More than a week ago, Biden announced his 2024 reelection campaign on Twitter. So far, neither Biden nor his campaign has publicly addressed Kennedy's candidacy or any claims he's made.
Other Statements
Earlier this month, Kennedy drew headlines when he again alleged that the CIA was involved in the 1963 assassination of former President Kennedy. The CIA has long disputed those allegations, while the Warren Commission Report stated that officials believe shooter Lee Harvey Oswald was the lone suspect in the case. However, a House committee in 1979 suggested that there were at least two gunmen involved in the Kennedy assassination.
"There is overwhelming evidence that the CIA was involved in his murder," Kennedy told radio talk show host John Catsimatidis a week ago. "I think it's beyond a reasonable doubt at this point."
Kennedy Jr. later stated the first call his father, who was at the time the U.S. attorney general, made was to a CIA desk officer. "My father said to him, 'Did your people do this?'" Kennedy Jr. told Fox News's "Hannity" last week.
"His next call was to [Enrique Ruiz-Williams], who was one of the Cuban Bay of Pigs leaders who had remained very, very close to our family and to my father," he added. "My father asked him the same question."
The elder Kennedy, who was later assassinated in 1968, then called John McCone, the head of the CIA, and asked him to come to his house. "When I came home [from] Sidwell Friends School, my father was walking in the yard with John McCone, and my father was posing the same question to him, 'Was it our people who did this to my brother?'" he said. "It was my father's first instinct that the agency had killed his brother."
Other than Biden and Kennedy, self-help author Marianne Williamson also launched a Democratic presidential bid earlier this year.
Read more at: TheEpochTimes.com
Submit a correction >>